Seriously,
Newsweek
? We know sales have been abysmal and you were on the verge of going under a few months ago, but this seems like an extreme way to generate headlines.
The latest issue of this magazine features a digitally-altered photo of Princess Diana, imaging what she would look like at age 50, and places it alongside Kate Middleton, as if the two are old pals out for a stroll.
It's an eerie attempt to bring the dead back to life, and to put even more pressure on the beautiful head of Prince William's bride than already exists.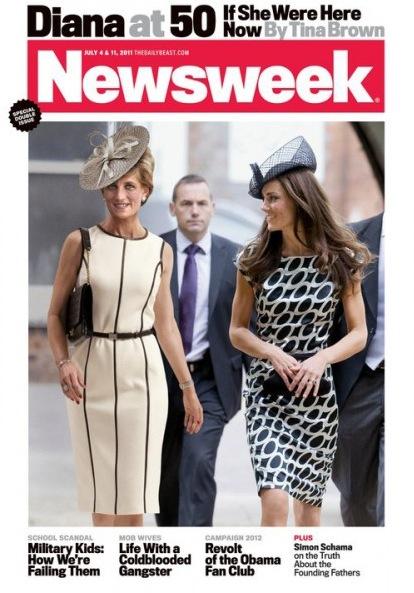 Editor Tina Brown, who penned the cover story, says of her vision of Diana:
"There is no doubt she would have kept her chin taut with strategic Botox shots and her bare arms buff from the gym. Remarriage? At least two, I suspect, on both sides of the Atlantic."
Hypothesizing about what this icon would be doing if tragedy hadn't struck in 1997? Juxtaposing a photoshopped version of her on the sidewalk with Middleton? Do you find this blatant attention-grab to be in poor taste?
matt@iscribelimited.com (Hilton Hater)
29 Jun, 2011
--
Source:
http://www.thehollywoodgossip.com/2011/06/newsweek-courts-controversy-imagines-what-would-princess-diana-b/
~
Manage subscription
| Powered by
rssforward.com